Accessible Powerboat Fundraiser
Our accessible powerboat fundraiser is now active. We are raising funds for a new accessible powerboat that is capable of operating anywhere from pleasure boating on canals and small lakes to powerboating on inshore waters and is the most versatile. It is 5.3m long and 2m wide and has an open, spacious and level cockpit. Roll-on, roll-off access is via a watertight bow door that lowers to form a ramp. Its drive-from-wheelchair console enables people with the severest of disabilities to drive the boat themselves. Seating for ambulant people is flexible with fixing points on the floor to secure less-independent wheelchair users in place if required. It accommodates six people on inshore waters and eight on inland waters.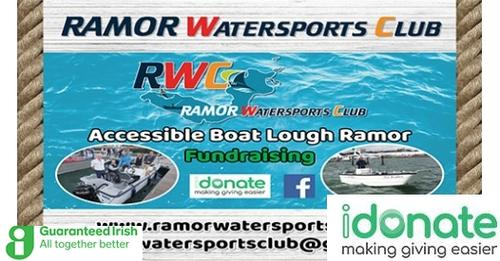 A fully fitted accessible powerboat will cost in the region of €70,000. This boat will be available for trips on the wonderful Lough Ramor commencing June 2022 and we are taking preliminary bookings. Contact us at ramorwatersportsclub@gmail.com if you wish to make a booking or learn more about this exciting addition to our club.
"Come on a boat trip and let the stresses of daily life float away".